A lot can change in the space of a year. It was exactly this time last year, as I was preparing to attend my first Watches and Wonders, that I decided to mark the occasion with a new fake watch. I'd worked through a few different references during the 12 months prior and nothing had really stuck. Essentially, I was after a versatile piece that I could wear most days. Previous entrants included an Explorer One MK II in 39mm (very cool replica watch for sale, but it wasn't love) and a Vacheron Overseas Dual Time (thought it was my grail watch – now I firmly believe there's no such thing). Both were amazing in their way, but were just missing that elusive something to get them over the line from casual dating to full-time romance.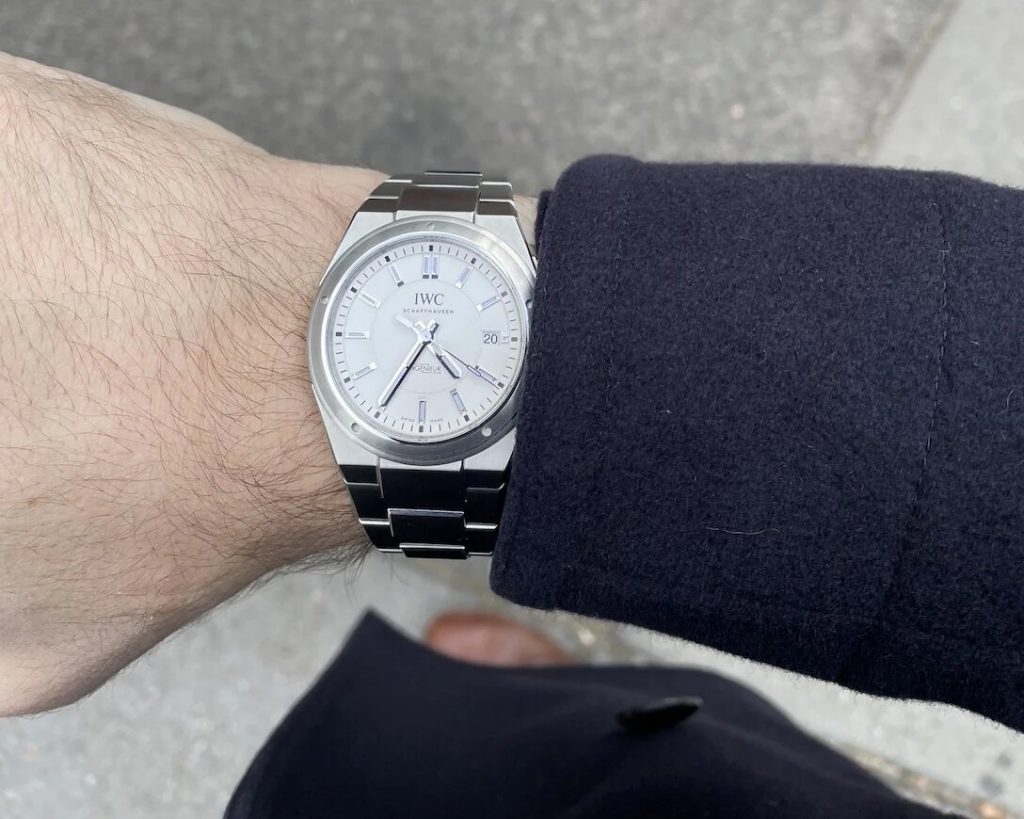 The thrill of the chase and the journey in researching high quality replica watches has always been a huge draw for me – sometimes to my own detriment – so I had way too many options on my list. I'd always been a fan of the original cheap super clone IWC Ingenieur but not of the current gen that stray too far away from the original DNA for my liking. The 3239 reference was definitely a sleeper hit to me but I couldn't get my hands on an example to try and wasn't prepared to take the plunge without seeing it in the metal. Eventually, I was lucky enough to source a piece from the local boutique. It was "new-old stock" and hadn't been worn before so I was immediately very keen to get hands on.
Once I put it on the wrist, I felt… Instantly impressed with the build quality. It sits extremely low on the wrist (with a height of just under 10mm) and the case and bracelet mould themselves perfectly around my wrist. It had that slight heft which I like and appreciate in a luxury watch without feeling bulky. I ended up with the white /silver dial (full reference IW323904). Originally, I thought I'd want the black-dialled best 1:1 replica IWC but after seeing the ivory white dial for myself it was obvious that this was the one that had my attention (more on the dial below). The watch does wear bigger than the 40mm case suggests due to the integrated bracelet and crown guards. I'd say it feels like a 42mm which is absolutely fine with me. The thinness of the case definitely offset any feelings of being oversized. After spending 15 or so minutes with it on the wrist I knew I had to have it.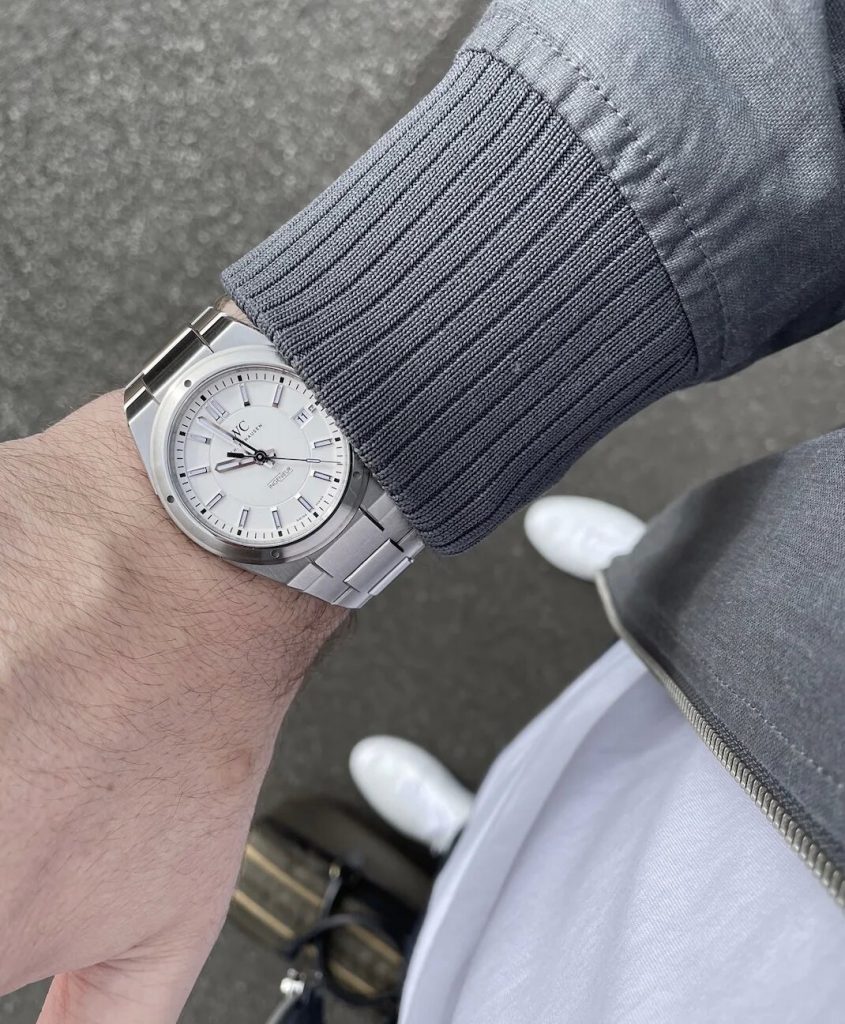 Looks-wise… I think it just rocks. While I love the overall package the dial is the thing that constantly draws me in. Being a dad to a young, very energetic child means there aren't a lot of moments to pause and relax, yet pretty much every morning after the school drop while I waited for the train into the T+T office, I'd look down at the dial in a moment of mindfulness and just smile without ever really looking at the time. I'd more often than not whip out the phone for a quick wrist shot as every time I found something else about the dial I wanted to capture. After substantial time on the wrist there are some significant scratches and nicks but they all add character and help make the Swiss made fake watches truly unique.
I'd wear this with … Literally anything. I've worn this cheap replica IWC to the beach, while snorkelling in the ocean, to formal events and everything in between. It wasn't out of place – to me at least – in any scenario. Its 120m of water resistance is also way more than I'll ever need, so I had no issues taking it away on vacation and using it as my pseudo dive watch. I picked up the black OEM rubber strap for high quality copy watch and it's even more versatile, moving from a slightly elevated, elegant look to a true sports watch. The light dial also popped more with my standard navy wardrobe to get me through the Melbourne winter.
If I could change anything … The biggest gripe I have is with the lack of micro-adjust on the bracelet. So many brands, including AAA quality fake IWC, have great micro adjust settings on bracelets these days. While adjusting this bracelet is relatively simple due to the push button design of the links, I found myself having to carry around a spare half link to keep up with the constant weather changes and swelling of my wrist which, to be honest, I hardly noticed until I started wearing this super clone watch online full time. The rubber strap is great though so I did rock it this way most of the summer, but I just feel the watch works so much better on the bracelet. I couldn't go more than a few days without changing it back to the bracelet. Also some different colourways for the rubber strap would have been amazing. I can't shake the idea of a white rubber strap on this bad boy. Sadly there aren't many quality after-market options so this will have to remain a fantasy.